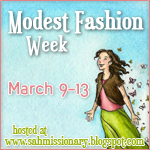 This is a blog I really enjoy visiting. Joy has five children and is serving with her husband as a missionary in Indonesia. She has a very gently way of writing, that seems to match her photograph. Her heart is so pure and she radiates her love for Jesus, it is refreshing and encouraging.
She is doing a special week-long focus on modesty and even has some very fun giveaways from some wonderful clothing lines and other great resources! So, click on her button above and visit each day this week to learn more about dressing modestly!
What a beautiful way to find ways to express our inner beauty, rather than just using our outer beauty! Another great thing about Joy, because she is a very beautiful gal, but her heart shines much brighter!