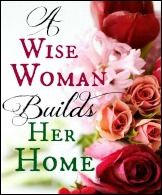 A Wise Woman Builds Her House....
Well, it appears that I am in the habit of posting once a year, around this time! I always seem to have "good intentions" of blogging more and getting back in the groove, however life enters and here I am one year later.
I came across the above FB page and Proverbs 14:1, just happens to be one of my favorite verses...
"The wise woman builds her house, but the foolish tears it down with her own hands."
Now again, we are here at the idea of intentions. None of us wakes up in the morning and purposely intends to tear down our own house. I love that this verse speaks to the inner, hidden part of me~ my heart. God knows my heart and He sees my thoughts and knows if I am intentionally aligning them with Him or if I am haphazardly going through my day on my own "good intentions."
"For the mouth speaks out of that which fills the heart."
Matthew 12:34b
I didn't intend to speak quite so harshly. I didn't intend to anwser e-mails for that long. I didn't intend to get caught up in the phone conversation for 45 mins. I didn't intend to forget to take out the meat and now have to pick up something quick for supper on our way there.
Please don't hear me saying that occasionally we forget or some things must temporarily take priority over others. I am trying to communicate the importance of being intentional with my intentions and aligning them with God's purpose for me each day. He has been incredibly gracious in giving me a husband and three sons to care for, serve and love each day. In this calling, I long to do well and glorify God. Therefore, I must be checking my heart and what motivates me. I should be finding my love for God at the top of the list, along with my desire to serve and love my precious family.
We are a busy people, filling up our lives with nearly anything that comes knocking on the door. I think about women of the early 1900's and how much they were required to do in order to just simply provide the daily needs for their families. I also think about how they did not have near as many distractions. They did not have blogs, FB, Pinterest, twitter, Bunko club, shopping, the fitness club, etc...
They woke up with the purpose of meeting the needs of their family. In Genesis 2:18 God says,
"It is not good for the man to be alone; I will make him a helper suitable for him."
Survival in that day kept them from being distracted by self-fulfilling enjoyments. I am assuming that each woman fully walking in the will of God was fulfilled by living out her God-given purpose of meeting the needs of her family. Of being that
suitable helpmate...
I am convinced that I too will be fulfilled in living out the purpose God has called me to in serving my family with the right intentions. The intention of building my house, and not tearing it down. The intention of building up the lives of those in my home, rather than tearing them down. There are noble callings that God gives each of us that may call us out of our home, but I know in my heart that my husband, children and home come first. Ministry can happen with my home as the hub, making my ministry linear and not a list that leaves no time at the end to serve others. All of my life is a ministry and my home is the place in which I start and finish each day, so I long to give my best there and not my leftovers.
Isn't it tempting to give others the best and then rest on the "grace" my family offers when I give them the tired, worn-out, spread thin rest of me? Isn't it easy to want to give the right impression to others and rest in knowing that my family loves me no matter what? Since, my family and my home are good gifts from God, I am certain that He longs for me to give my best there also.
Too much in the world tells me to empower myself and seek out what makes me happy and fulfilled. The job of telling me what I need to do with my time and resources belongs to God alone. Married, single, divorced, widowed, a mother, an aunt, a sister~ each of us has a "home" in which we can build and invest. May each of us be careful to live wisely and find our fulfillment in Christ alone. I pray that building your house will be enough to fill your cup!